The Illyrian tribes and the ancient Romans later chose the hills surrounding Porec as the place for their settlements and fortresses. And this was a logical choice. They found emerald and blue lagoons as well as soft Mediterranean climate here. The same factors attract European tourists here nowadays. Porec is one of few towns in the Mediterranean where preserved the ancient roman features of medieval buildings, churches, towers. The town became famous due to basilica of St. Efrazius with the 6-century typical Byzantine mosaics.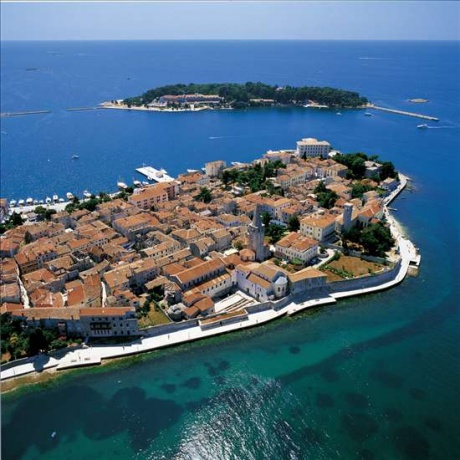 This rich both historically and naturally region was chosen as a place for building the tourist center Green Lagoon situated 5 km from Porec. It is one of the most attractive and also optimally equipped tourist centers in which various sport and entertainment complexes and tennis courts are placed. Porec is also one of the most attractive towns in the west coast of Istria. It is located in a 64-kilometer long lagoon. Archeological excavations in Porec suburbs at the bottom of the hills proved that the civilization had already existed here about 7 thousand years ago.
Porec was founded about two thousand years ago by ancient Romans who chose this small peninsula name of which has changed a few times since then: from Parenzo to Parens to Parentium and to the final Porec. From the sea you can enjoy beautiful view of the harmony of different styles of architecture. For example, in the western part, where, as archeologists believe, the town acropolis was located, you can see ruins of temples of Neptune and Mars which were constructed in A.D. I century. Eufrasiana, one of the Byzantine buildings that you should pay your attention to, is an ancient cultural monument erected in the 6th century. Palaces built during Romanian and Venetian gothic periods survived till nowadays. Ruins of the fortress walls can also be seen here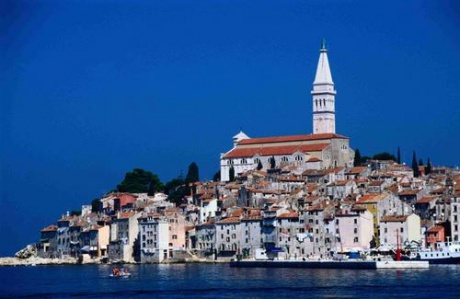 A small green island on which a lighthouse was built in 1403 is today a hotel looking like a castle. It is located just opposite to the town. The historical center of the town is surrounded by modern hotels and beaches and resort infrastructure. Small cafes and restaurants offer you all kinds of dishes. Different sport centers welcome their visitors. You also shouldn't forget about the panorama of beautiful Adriatic. All this things make Porec a very popular town among tourists.
History of Porec
Long before Chrict the Illyrian tribes chose the hills near Poric as the place for their settlements. More than 2000 years ago the Romans decided to found a beautiful Parentium fortress and their marvelous villas here. Some of the advantages of this region that make it popular among all European tourists are soft Mediterranean climate and emerald-clear see.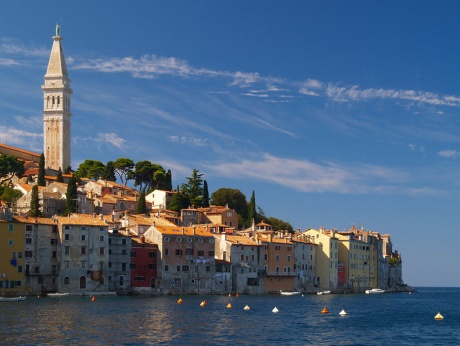 How to get here
The town isn't really big and its population is only about 8 thousand people, or 17 thousand if including the population of its suburbs. The closest international airport – that is Pula – is only 60 kilometers from Porec. Airplanes from Russia fly to this region as well - they specialize in numerous charter flights. You can get to the airport by an intercity bus or a taxi which is typical for Croatia. The highways deserve praising as they are the reason why independent trips are popular here. But you have to remember that roads in Croatia are paid.
Transport in Porec
A road-train for tourists making 3 or 4 stops cruises along the whole shore. The fare is quite moderate – about 10-20 HRK. Work schedule: from 9 a.m. to 10 p.m. After 10 p.m. you can get to hotel by water cab which costs not less than 50 HRK.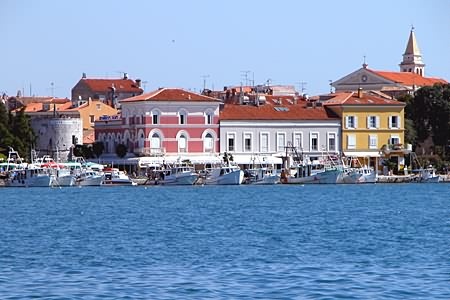 Shopping: stores
There is a small marketplace in Porec where you can buy various souvenirs, such as shirts, lavender bags, magnets, and emblems. There are many stores in the town where you can buy clothes, souvenirs, foodstuffs. It's recommended to buy olive oil and wine in specialized stores (the price is higher but assortment is huge) or supermarkets (the price is lower, but choice is poorer). In the marketplace you can buy vegetables and fruit grown buy local farmers.
Hotels in Porec
Porec is one of the most popular towns for tourists from all countries of Europe. This is no surprise. First of all, the factor is variety of opportunities for comfortable and engrossing leisure. Also, modern development of the tourist infrastructure providing the top-quality and European service.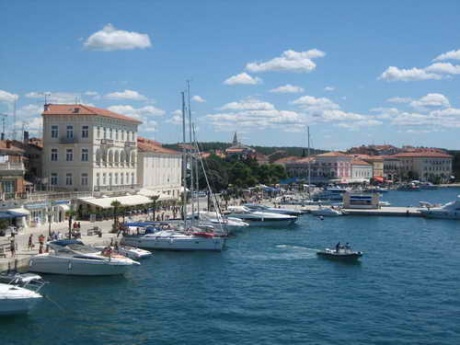 Almost every hotel can offer you not only food and comfort rooms, but also big variety of excursion programs. You can book tickets for different events right from your hotel. The staff will help you to reserve a table in a restaurant or a parking place or help you with various other questions that you may be interested in, in order to organize good time and help you det to the most interesting sights.
The first luxury beach hotel Nautica 5* in Porec was opened in 2006. It became famous almost on its first day and is now one of the most popular hotels in Porec. For many hotels, visitors, who love active recreation, are of value that is why they can offer you renting different kits or hiring a qualified trainer. Also there are many hotels specializing in family recreation with children here. The children will love the climate and the services. If you prefer romantic recreation Laguna Galijot hotel is recommended. It is one of the most beautiful hotels in the town. Porec is a record holder for number of hotels in a country, so everyone can choose something for him. Besides, you have an opportunity to rent a villa or cozy apartment which can be rather isolated or located in the heart of the resort zone.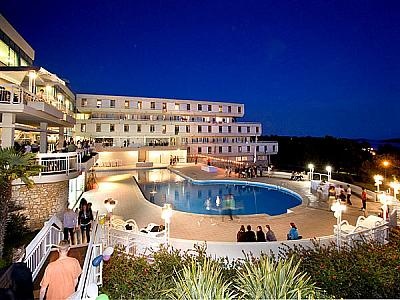 Entertainment, excursions and sights
Many buildings in Porec were erected upon the foundations of buildings of the Ancient Rome period. Ruins of Roman Forum are definitely worth seeing. They are located in the Marafor Square. It is also recommended to go to Dekumanskaya street which used to be a roman «decumanus» and leads to the Forum.
The most famous sight is Basilica Eufrasiana which was erected in times of the Byzantine Empire. It is included in UNESCO heritage list and is a really unique place which is always open except for the time of services. Some other sights that deserve being mentioned: ruins of North Tower (the 15th century), Semicircular, Circular and Pentagonal Towers. Marafor Square is one more place to be visited as it is the oldest and biggest square. Istrian Municipality which used to be the church of St. Francisco should be visited as well. In the Marafor Square the Big Temple and the Temple of March are located. Not far from here you will see the Temple of Neptune.

In the town museum you can see a unique collection of ancient items such as ceramics, stone fragments with roman inscriptions of early medieval. Many buildings are Venetian, Romanesque and Gothic which make them attractive sights for tourists interested in architecture and history. Porec is also the ideal variant for those who want to just visit a beautiful town.
At the quay you are offered various cruises along the coast visiting the Lim Bay, Pula and etc. Just 10 kilometers from Porec there are unique Beredine caves full of amazing dripstones. Experienced guides are at your service. Tou can also get to these sights by bike. Not far from here there is the Lim Bay. You can get there down a scenic road along vineyard and olive groves. From the tower of Basilica Eufrasiana you can enjoy the town panorama and exciting view of the outskirts.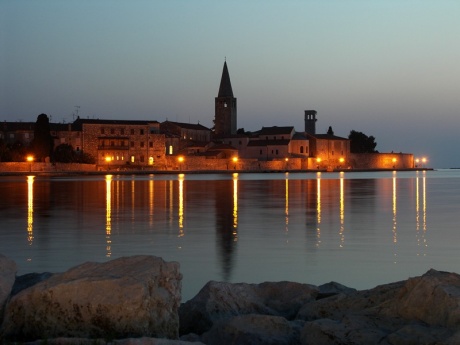 Active rest
A lot of opportunities to do sport are available. There are a lot of sport courts, gyms, 165 tennis courts and bicycle paths. All this forms the attractive image of the region and makes you want to do some sports even if it isn't typical of you.
You can rent various sports gear here. Water centers are all over the beach here, you can rent a scooter, water ski or a parachute. You can take a bicycle or a scooter and go sight-seeing. Lots of walking and bicycle paths are organized here for ecotourists. Renting one of numerous high-quality tennis courts is not very expensive. You also can play mini-golf or table tennis. And you surely shouldn't forget all those wonderful restaurants, bars and discos (many of them provide a free bus to get you from/to hotel).